Floating through a cloud …
Post Date:
May 24, 2016 by josiemounsey
Floating through a cloud … a cloud filled with the intoxicating scent of blossom … we drift as if in a dream, our senses immune to everything else around.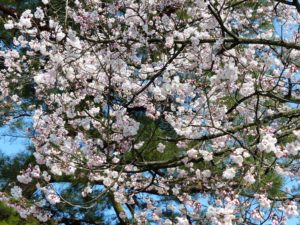 We are in Japan.  It is cherry blossom time, the festival of hanami, when friends and family come together at parks, temples, shrines, for flower-viewing parties.  They gather in cheerful groups under sakura trees to eat and drink sake, footwear lined up in neat rows along the edge of blankets covering the ground.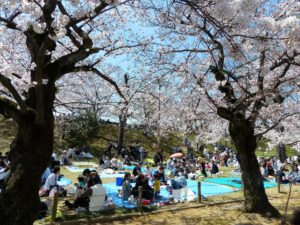 The custom of hanami dates back many centuries in Japan.  Originally limited to the elite of the Imperial Court, it spread to samurai society and then to the common people.
Imperial-Japan often planted cherry trees to claim occupied territory as Japanese space.
During WWII, sakura became a national rallying symbol for the Japanese.  Kamakazi pilots decorated the fuselages of their planes with cherry blossom emblems, or carried a branch of blossom with them on their trip to eternity.
In Hiroshima, the garden of Shukkei-en was destroyed by the atomic bomb which exploded above the city on August 6, 1945.  Many of the cherry trees blossomed again the following year – a surreal sight in a sea of destruction.  Today, the garden is a peaceful place to reflect on the destructive power of nuclear weapons.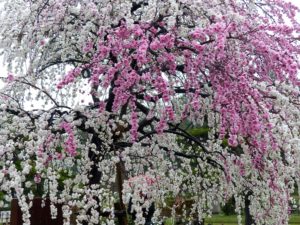 Himeji Castle, built in 1580, is one of only a few original castles remaining in Japan.  Its nickname Shirasagi-jo (White Egret Castle) comes from its lustruous white plaster exterior and stately form on a hill above the plain.  During hanami, the castle, with its skirt of cherry blossom, hovers as though floating in air.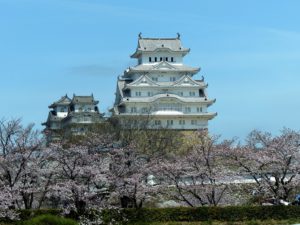 In the sublime gardens of Nijo Castle, Kyoto, young people dressed in traditional style wander beneath canopies of blossom.
Blossom is everywhere, and prayer strips flutter in the breeze.
In Shinagawa, Tokyo, branches of blossom dance above our heads along the approach road to the Prince Sakura Tower Hotel.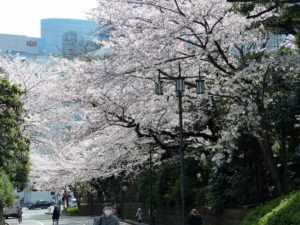 In the hotel garden, blossom overhangs the pond, where giant koy carp drift idly past.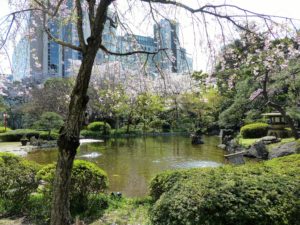 Sadly, the festival of hanami will soon be over for another year.  It is time to say "Sayonara" to this majestic land.
One response to "Floating through a cloud …"