Half-Century x Two!
Post Date:
August 9, 2017 by josiemounsey
On a July morning, we came together in the ancient village of Corfe Castle, Dorset, to celebrate the 50th birthdays of my niece, Alison, and her husband, Brian. Built by William the Conqueror, the castle from which the village takes its name, towers over the Purbeck Hills between Wareham and Swanage.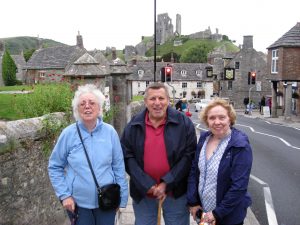 Pictured left: The ruins of the castle provide a backdrop as Alison's parents, Maureen and Graham, pose with me as we stroll back to the very comfortable Mortons House Hotel. Built in 1590 in the shape of an 'E' to honour Queen Elizabeth I, this privately run 21 bedroom manor house is in the centre of the village.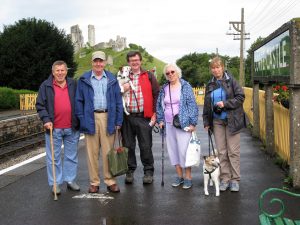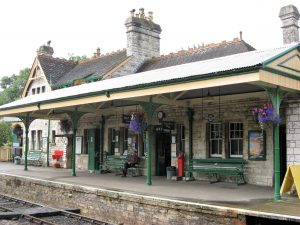 We wait patiently on Corfe Castle station, much as passengers have done since the Swanage Railway opened in 1885, for our steam train to Swanage. The line now operates as a heritage railway.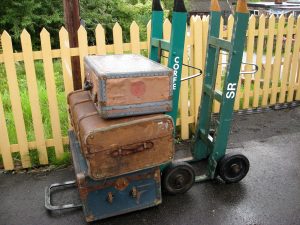 No, this is not our luggage! The station at Corfe Castle is full of railway memorabilia.
On time, our engine 80146, steams into the station. Brian's parents are already on board, so we hurry along the platform to join them.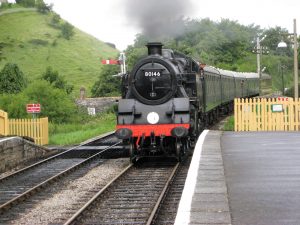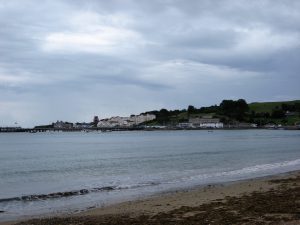 In Swanage, the skies are heavy, reminiscent of so many seaside holidays spent in England, where light summer garb is swiftly exchanged for warm sweaters and jackets, and holidaymakers huddle in shelters taking in the bracing sea air!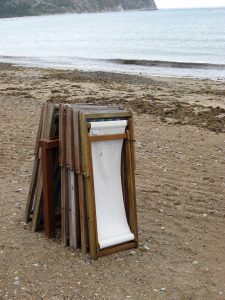 The deckchairs tell their own story
Our train ride back to Corfe is filled with laughter as, despite the weather, we are all in a celebratory birthday mood.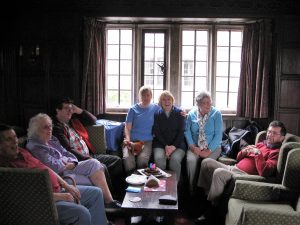 Back at Mortons House Hotel, we settle in the warmth of the comfortable sitting room, order pots of tea and coffee, and devour delicious birthday brownies. Did we forget to sing "Happy Birthday" to Alison and Brian? I think we did!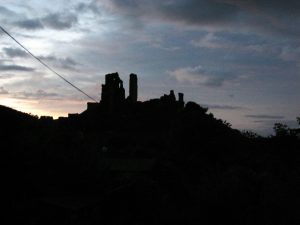 As dusk falls, from our bedroom I gaze at the ruins of the castle, and wonder how many other people over the centuries have looked at this same view and gloried in the magnificence of its towering presence.
A fitting end to a perfect day with family.