In the land of tin mines
Post Date:
June 25, 2017 by josiemounsey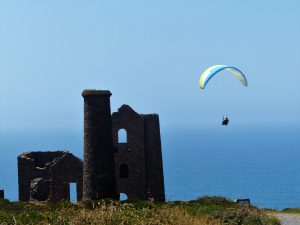 Standing on the cliff top close to the disused Wheal Coates tin mine, my imagination drifts back to a time long past when the air was filled with the noise of the steam-driven engine pumping water from the 600 ft. shaft, and the shouts of the 'bal maidens,' the women who worked on the surface crushing copper ore into smaller fragments. At the height of its production in 1815, 140 people were employed at the site to mine a seam of tin just below sea level.
Back in the 19th Century, the life of a Cornish tin miner was tough and dangerous. The air in the mine was thick with smoke, dust, and fumes. Many died in accidents caused by explosions, rock falls, drowning, and entanglement with machinery. Over 7,000 children worked in the Cornish tin mines, initially on the surface but, on attaining age 12, they joined their fathers underground.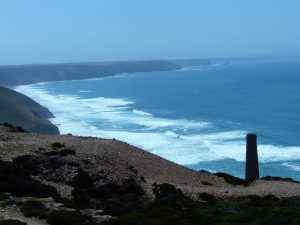 From my perch overlooking the Atlantic Ocean, I am thankful that people no longer toil beneath my feet. Today, the only sounds that puncture the air are of waves crashing on the rocks below, the ever-present squawk of seagulls, and the soft drift of paragliders.
I imagine the sound of hooves pounding across gorse and heather-clad turf, for many of the scenes from the popular TV series, Poldark, were filmed on these rugged clifftops above the beach at Chapel Porth. And … is that the voice of Demelza calling to her errant husband?
2 responses to "In the land of tin mines"