Sand and Shingle … Trevaunance Cove, St. Agnes
Post Date:
June 25, 2017 by josiemounsey
On the dramatic North Cornish coast, tucked away at the end of the pretty village of St. Agnes, lies Trevaunance Cove. Surfers flock here to ride the breakers as they roar in from the Atlantic Ocean.
Children and parents dig trenches in the sand, constructing sometimes complicated water features. The more adventurous explore the maze of caves that pepper the coastline, conjuring visions of pirates and smugglers bringing contraband ashore to hide in these dark spaces in the dead of night.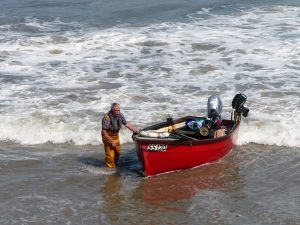 Fishermen land their catch on the beach, hauling their boats across the shingle to be stored at the side of the old harbour.
For the less energetic or for those who have worked up a healthy appetite, you'll find friendly service and delicious food at Schooners Bistro, perched above the beach. You won't be disappointed with crab on toast, pickled fennel, crispy egg and rocket. Did we need desert? No, but the choc ice, with salted caramel, peanuts, and clotted cream, was too good to miss! Cinnamon buns were a hot item, with those partaking pronouncing them to be "Awesome"!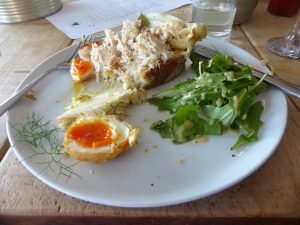 Like many beaches on this coast, you need to check tide tables before you visit. At high tide, there is very little beach and, what there is, is mostly shingle.
Be warned, to get to the old harbour and beach, there is a fairly steep walk from the car park.
If you have time to waste, watch the double decker buses negotiating the narrow, steep and winding main street in St. Agnes. Keen to get good pictures, photographers dice with death by standing in front of the bus!