Shiloh Run
Post Date:
June 11, 2016 by josiemounsey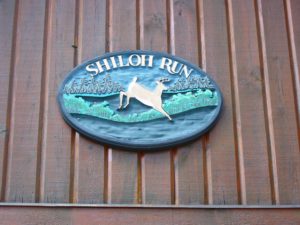 Shiloh Run.  The name invokes images of a skirmish between the US Cavalry and an Indian tribe across arid plains.  No thundering hoof beats and war cries at this Shiloh Run though, for this is the peaceful property, close to Owen Sound, Ontario, my husband and I owned for eleven years.  Sadly, two weeks ago we locked the door on the beautiful log home and handed the keys to the new owners.  As I drove down the laneway, I paused for a nostalgic look back at the sparkling waters of the landscaped pond, lilac trees in full bloom, and myriad blossoms bursting into bud in the flower beds.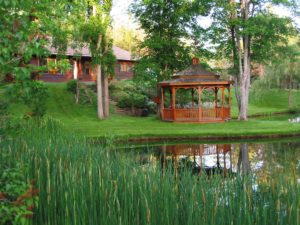 Over the years there have been many happy times spent at the cottage.  Lots of hard work, too.
Visits from family and friends were the best – a plethora of happy memories of times spent relaxing in the gazebo listening to the splash of water from the fountains, the croak of frogs, while enjoying afternoon tea with home made cakes.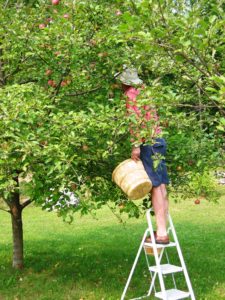 Fall is a time for apple picking in the orchard and many hours spent in the kitchen turning the harvest into enough apple sauce to feed an army!
Then leaves turn from green to orange to brown, and every shade in between.
After the splendour of the Fall, wintry winds sweep in bringing with them snow and ice.  Brrrrrr …
Shiloh Run – so many happy memories.
2 responses to "Shiloh Run"